Window Cleaning

WINDOW WASHING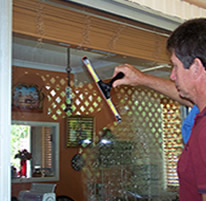 Why get your windows cleaned?
Most people don't realise how dirty their windows are until after they are cleaned, and then they see an amazing difference! Windows are one of the few aspects of a residence that with a professional window cleaning can add elegance and beauty whether you're inside or out. You may even find you have more natural light inside after having your window cleaning done.
Looking to sell?
Your windows are one of the first things that anyone notices when entering your home or business. Show the pride that you have in your property with a professional window clean from Shine-O Cleaning.
Naturally, if you are looking to sell, this is a 'must do' item to enhance that vital first impression. Our Method of Window Cleaning There are a variety of ways we clean windows depending on the premises. We use a microfiber mop and a squeegee. We simply apply a mild detergent mix to the glass with the microfiber mop and then remove the water with a squeegee. With our professional and experienced techniques, there are no streaks, no drips or marks, and most of all – no dirt! We also use poles and ladders to reach those hard to get to windows, too. Plus, if you have screens, they will be cleaned by us as well. There's no point in having clean windows if you have to look through dirty screens!