About Us

House Washing and High Pressure Cleaning

Who are we?

Hi there and welcome!   We are Kevin and Charlotte Ingham, and we operate our family-owned business, Shine-O Cleaning Services.  You can rely on us for all of your house washing, window cleaning, high pressure cleaning and external mould treatments.
Being home owners ourselves, we understand that you want your home to look as good as it can be all year around, and therefore we endeavour to meet all your external cleaning needs and expectations with our professional cleaning services.

Shine-O Cleaning Services was first established in 1986
By Kevin Ingham after finding a strong demand for a professional house washing,  window cleaning and pressure cleaning in Brisbane's northern suburbs.  Today, Shine-O Cleaning has serviced thousands of very satisfied customers and continues to strive for exceptional results for all of our clients.  The proof that our wonderful customers are happy with our work is that they keep coming back to us!
As the sole owners and operators of our family-owned business, Shine-O Cleaning Services, and also being long-standing Brisbane north-side residents, we pride ourselves on providing excellent personalised service to each of our customer's requirements.  This is personal for us – we are not a large business or a franchise –every client is an individual to us and every job must be done just right.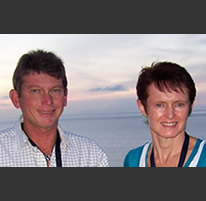 Shine-O Cleaning Services Team