Our Services -Pressure Washing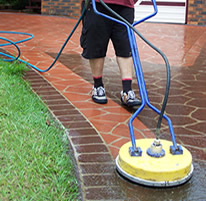 PRESSURE CLEANING
Our concrete and hard surface cleaning are invaluable to clients aiming to maximise the value of their property or simply to rejuvenate your property. The results are outstanding; Shine-O Cleaning Services can give your external surfaces a near brand-new look!
Our commercial-grade equipment allows us to quickly and professionally clean all surfaces including:
• Concrete surfaces • Driveways, including stencilled • Pathways and Walkways • Bricks and Pavers • Retaining Walls, including brick, stone and block walls • Fences • Courtyards • Pool surrounds
What Shine-O House Pressure Cleaning Services will do for you Combining bio-degradable cleaning agents with commercial pressure cleaning equipment, we blast away ground-in dirt and grime, tree and plant stains, mould, mildew and even fungi growing in damp concrete areas.
Our multi-purpose high pressure cleaning equipment
Will effectively clean almost all hard surfaces. We also use a rotary high pressure cleaner that cleans faster and with a far better finish than with a conventional high pressure wand. Why Is It So Important? SAFETY around the home is so very important. By removing mould, greasy stains, tree/plant sap, etc, from hard walking surfaces, the risk of slipping and falling, especially in wet weather, is greatly reduced.
Plus, it makes you feel good! When you return home, it's great to be returning to a welcoming, clean and cared-for home. And it impresses the neighbours! Most likely, your first point of approach will be your driveway. As you're aware, your driveway works hard! Regular pressure cleaning of your driveway will remove the build-up of dirt, grime, plant and tree stains, grease and, of course, mould. A clean driveway will not only look great but it will add to the overall appearance and value of your home. It's nearly impossible to hide a driveway – for better or for worse. We can make it so much better – the results of Shine-O driveway cleaning can transform a driveway from grimy and weathered to bright and looking all new!
Apart from your driveway, ALL the hard surfaces around your home benefit greatly from our pressure cleaning. In addition to the amazing visual enhancement, the improvement in safety, there's also the benefit of increasing the value of your property.
Why put it off? Call Shine-O Cleaning Services today and benefit from our fast, efficient and experienced hard-surface pressure cleaning services. You'll be so glad you did!